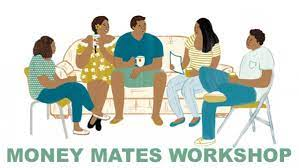 MoneyMates is an amazing programme that draws a group of clients together to have conversations that build their financial capability.
The facilitator has an important role to set these sessions up for success.
This module is a knowledge base for MoneyMates, it is not training to become a MoneyMates facilitator.
Aim of Module
To revise and extend thinking and planning from the learning in MoneyMates training.
Who is this course for?
Financial mentors who have completed MoneyMates training with FinCap and would like to:
plan new MoneyMates sessions
revise the learning from the MoneyMates training; and
extend their knowledge of MoneyMates.
What will you learn?
At the completion of this course you will have explored:
the importance of building group engagement
facilitation techniques that you can use
potential topics for MoneyMates sessions
budgeting and funding your programme
gathering data
marketing your MoneyMates sessions
evaluating MoneyMates sessions; and
the power of achievement.
Module Timeframe
It is expected that this course will take two to three hours to complete.
About the Instructors